TEN COMMANDMENTS: ART. 1 and 2: "MAKE NO IDOL" (MAKE NO STRANGE GOD)

"Glory be to the Father, as it was in the beginning,

and to the Son, and to the Holy Spirit as it is now and will be"

"Hail Mary full of grace the Lord is with you, blessed are you among women, and blessed is the fruit of your womb, Jesus.

"Holy Mary mother of the only Son of God, pray for us now and at the hour of our death."

Mother of GODSELF does not exist.

Mother of the DRAWER (ANIMATOR, GODSELF) does not exist.

Jesus cannot DRAW (ANIMATE).

Jesus is the Son of the DRAWER.

Only the DRAWER (ANIMATOR, GODSELF) is GODSELF (GOD BEING).

Jesus is DRAWN (CREATED, FIRSTBORN OF CREATURES).

THERE IS NO "CONSUBSTANTIAL" WITH THE DRAWER (ANIMATOR, GODSELF, GODBEING).

THERE IS NO "HYPOSTATIC UNION" WITH THE DRAWER.

GOD CANNOT DRAW GODSELF.

YET ALL HAS BEEN GIVEN TO THE SON, JN 17, WHO IS OUR LORD AND KING, WORD DEIFIED SON, GOOD SHEPHERD. BROTHER.

Summary:

In the beginning God the FATHER (DRAWER, ANIMATOR) was alone. He wanted a Son. He had to create DRAW (ANIMATION) his only Son the Word.

The Word is not able to animate (DRAW, CREATE). How then do we read Philippians 2 were it reads "Jesus did not deem equality with God something to be grasped at"? "Equality with" is a comparison phrase, comparing two objects, "A is equality with B." Jesus did not claim equality with the Father. The DRAWER (A) is not equal to the DRAWING (B). Only the Father can DRAW (ANIMATION). Jesus the Word cannot DRAW (ANIMATE), he is drawn (creature). Rather the "equality" Jesus claimed to the Father was in "authority as (i) SON, and (ii) AGENT (AGENCY LAW) "SENT IN THE NAME OF THE FATHER." JN 17, JN 14. Jesus claimed to be the Son who the Father wants obeyed and worshipped as His only Son (FAMILY TO GOD THE FATHER). JN 17. Jesus claimed "all that belonged to the Father has been given to the Son," "they are your Gift to me," He prayed in JN 17. And Jesus claimed to be the AGENT OF THE FATHER which in agency law meant He was "sent in the Name of the Father to do specific work for which He was sent, to be treated as the Father's sole agent to do the Father's title work." Jesus has Authority acting in the Father's name, on the Father's behalf. We are to obey Jesus "as if" He was the Father present doing that title work. In that way Jesus has an "equality to the Father". Jesus cannot be equal to the DRAWER, because Jesus cannot DRAW. Jesus can act in the Father's legal title NAME.

GOD CANNOT DRAW GODSELF (GODBEING). The lies of "consubstatial with the DRAWER (FATHER, ANIMATOR)" and "hypostatic union" or "unitive with the DRAWER (ANIMATOR, FATHER, GODSELF, GODBEING)" are VIOLATIONS OF THE FIRST COMMANDMENT to "make no idol." The lie of "ONE SAME BEING WITH THE DRAWER (FATHER, GODSELF, ANIMATOR, GOD BEING)" VIOLATES ALSO THE FIRST COMMANDMENT to "make no idol." Jesus cannot Draw, He is not Almighty. He is the Son. He is mighty in prayer, and what He asks for He receives from the Father. Jesus asks, and the Father then Draws it (creates). Jesus cannot multiply His Sacred Heart tissue (Eucharist), God the Father must draw that multiplication for Jesus.

There are no "unitives with the DRAWER".

http://brianfusonie.com/VEGETARIAN ETHIC IN MEDICINE.pdf

by Brian Fusonie, Esq. (c) 2014

"God blessed them and God said to them: be fertile and multiply fill the earth and subdue it. ... God also said: I give you every seed bearing plant on earth and every tree that has seed bearing fruit to be your food. ... I give all the green plants for food." Genesis 1:28-31
HOLY "PERSON" (HOLY SPIRIT) WE CALL "ADVOCATE OF TRUTH"
See also "IN THE NAME" AGENCY LAW OF PERSON, this page.
The understanding of the term "Person" is essential to understanding the Nature of Jesus (Yeshua), and of the Holy Spirit.
Jesus says He is "the Truth," and He promises to send In His Name an Advocate (lawyer) Who will teach all "Truth" and is as His Person the "spirit of Truth." Jn 14
The Animation (drawing, description) Nature Of God's Creative Potential, how God makes other "PERSONS" ("others"), requires that God Animates TRUTHFUL. If God animates a lie, it cannot be the person drawn. The example of what looks as Jesus stealing from a beggar -- would not be the "real person of Jesus"! It would be hoax. Same as in Medjugorje when what looked as Mary appeared to Mirjanna and then after it left, another Mary appeared and said the first Mary seen that day was not Mary, it was hoax. She tells that story of when she had false Mary apparition that was corrected by the later apparition of what she believes is real Mary. Yet the point is that the "thief" and the "liar" stealing from the beggar of lying to Mirjanna would NOT BE THE "REAL PERSONS" OF JESUS OR MARY. God must animate truthful for "other" to exist. Another word for "other" is "PERSON."
If God wanted to create an "other" "Person" called "Holy Spirit" it could only be done if God animated exact TRUTH. It would be known as "PERSON OF TRUTH." The Holy Spirit cannot lie, because lies cannot be the "person." See above. THE PERSON OF THE HOLY SPIRIT ONLY EXISTS IF GOD IS PERFECTLY TRUTHFUL. "The Spirit Of Truth."
That PERSON would EXIST only if "ADVOCATING TRUTH." Not lies. The liar cannot be the Holy Spirit, because lies cannot be the animated "Person." Unfortunately, God also animated lies, and God called "the liar" the "devil." Or "father of lies." Yet the devil cannot be "person." It is hoax. God is testing each of you in disguise of some "devil" that cannot exist! Because lies cannot be "other" and thus cannot be "person," the devil has no personhood. It is a dummy draw, something as was seen by Mirjanna.
Jesus prayed that we be "CONSECRATED IN TRUTH." Jn 17 At baptism we are also "CONSECRATED IN TRUTH to an ADVOCATE who exists only if HONEST (TRUTH, SPIRIT OF TRUTH). The term "Spirit" however is inaccurate, because it is ANIMATED BY GOD. The better word would be "Person". That is different from "Voice of God," which would not have personhood, it would be the Creator speaking as Self, not animating (drawing, describing) what is "other." "Person." The Holy Person (Advocate). Not Holy Voice of God. Not Spirit.
The Contract for Holy Spirit to exist as Person would be "I draw (send) You to TEACH ALL MY COMMANDS (TRUTH) AND REMIND MY PEOPLE OF ALL TRUTH I HAVE SPOKEN OR WRITTEN." That would animate Holy Person we call the Holy Advocate in Jn 14.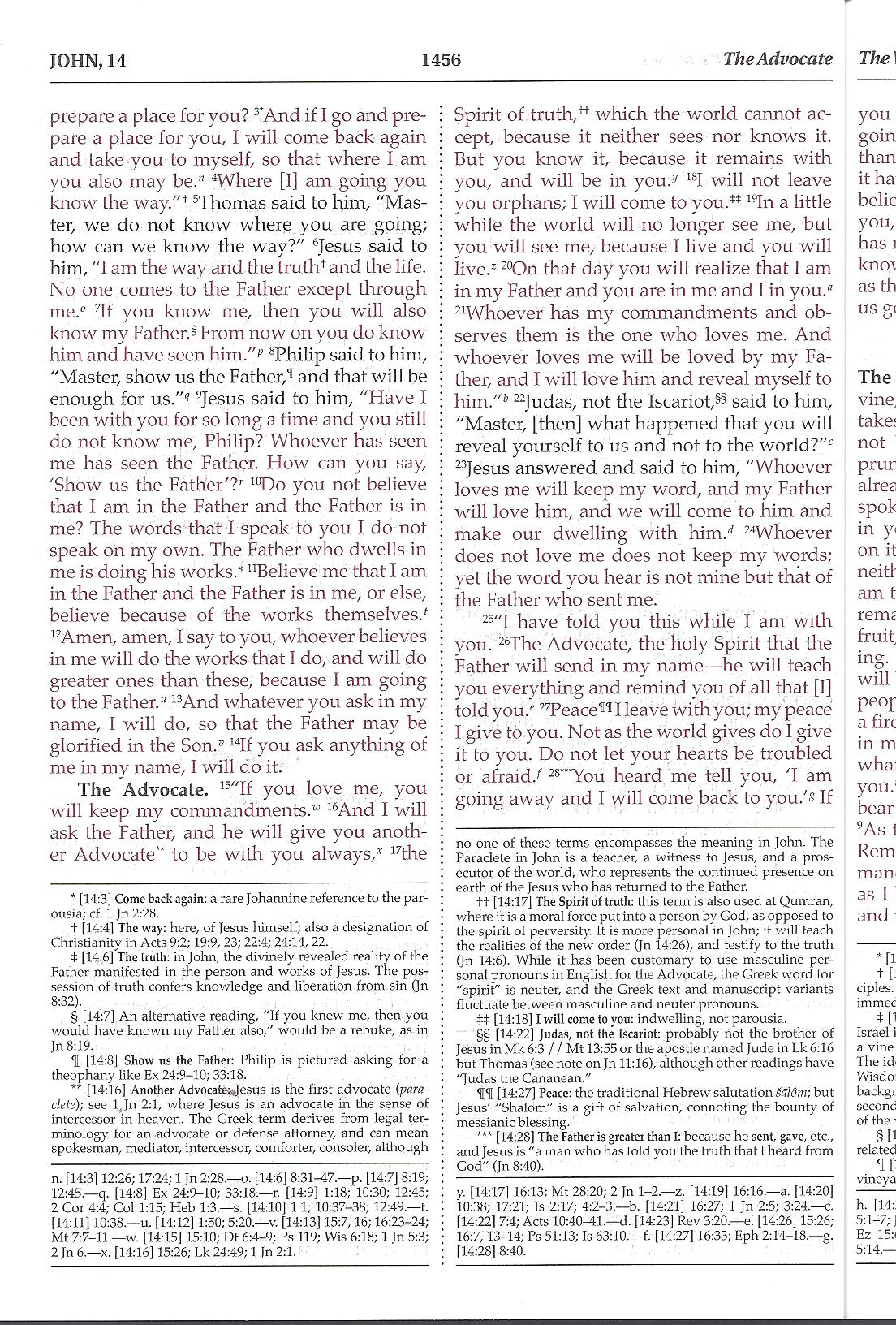 This exact teaching also applies to "PRIEST" which is an AGENCY CONTRACT (COVENANT OF PERSON), wherein the AGENT is commissioned to go forth and ACT IN THE NAME (the scope of the Agency) of the originator of the Agency contract. JESUS IS AGENT OF THE FATHER. To be agent acting "in the name" (in the scope of agency commission) of the Father, Jesus had to "Obey and Teach each and all of the Ten Commands perfectly, without complaint, each and every letter of the Law." Jesus then commissioned 12 Apostles as His "priests" "agents" to "GO FORTH DOING MY WORK IN MY NAME (as agents)." Jesus said: "Ask IN MY NAME means to ASK ONLY WHAT OBEYS THE TEN COMMANDS." "Whoever loves me, obeys my commands, and those who obey my commands can ask of me IN MY NAME, and I will do it." "Remain in MY NAME, and you can ask of me and I will do it."
To the Priests and to the people of God, the Father draws (sends forth, animates, creates) AN AGENT OF TRUTH, we call "Holy Spirit," "The Advocate Jesus promised to send IN HIS NAME." Jn 14 AND ONLY THOSE WHO REMAIN IN HIS NAME, OBEYING HIS TEN COMMANDS, REMAIN WITH THE HOLY SPIRIT ADVOCATE. Jn 14 and Jn 17
God's people are CONSECRATED IN TRUTH. Jn 17
Interestingly, GOD ALSO REVEALS that the "FATHER EXISTS A PERSON only as SPIRIT and TRUTH." God the Father may be an IDENTITY of GOD used by God because God is neither male nor female! And in that sense God must "animate" (create, draw, describe) a nature "FATHER" that is for relationship with us. As creation of God's mind that is neither male nor female. Yet God wanted to have relationship with us as our "Father." If God is neither male nor female, to give "person" to identification as the "Father" is creative (animation, creation), not God's original Name Shape of neither male nor female. In fact, we said on other web pages, that "God's creative fertility (ability to create) Nature is more as Maternal (womb, we are inside God), than fatherly. Man's fertility is outside of himself, it goes into the womb of woman! To relate with us as "Father" then is somewhat scripting a nature of identification that must be to the Mind of the Creator daily scripted. She cannot create God Self. She can script a "Father" as if God's Person, but that would be "Voice of God," not "other" "person." In that sense, God The Father as Voice Of God would be "Spirit and Truth" also. And to relationship with the Father you would need obey "Spirit and Truth," or obey "The Spirit Person Of Truth," Jesus and the Holy Advocate.
PRAYER BEFORE THE END COMES:
We pray for the ministry of Elijah to bring about the conversion of sinful lands back to the Ten Commands, before God's wrath brings worse than Japanese Tsunami to the East Coast.
What is important to remember about the promised Elijah in Malachi and Isaiah is that both books, especially Malachi in the immediate preceding chapter 2 warns God will punish and bring ruin to lands that VIOLATES MARRIAGE LAW OF EXCLUSIVE ONE MAN, ONE WOMAN, NO PORNEA ALLOWED. God was angered at desecrations of real Marriage law. Solar Flares will be the response, and it will cause RUIN OF THE ENTIRE EAST AND WEST COASTS PLATE TECTONICS, numerous persons have foretold this. God is angered. Unless the Americas run back to real marriage law, there will come RUIN AS THE EAST COAST HAS YET TO SEE AND IT WILL MAKE HURRICANES IRENE AND SANDY LOOK SMALL.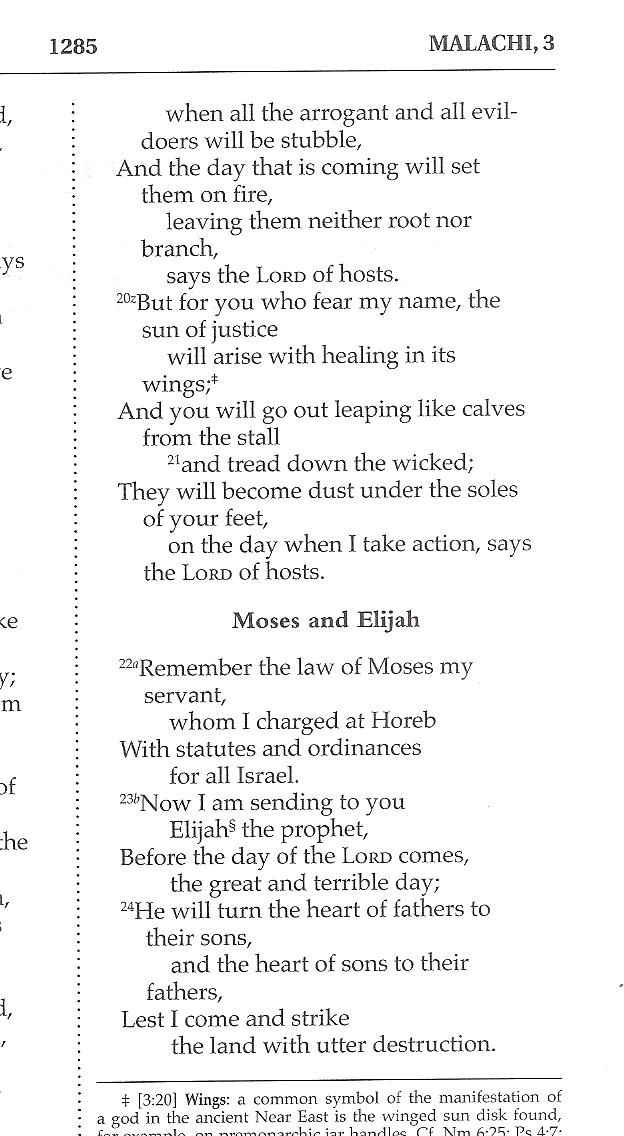 NOVENA SCRIPTURE MEDITATION ON THE ROLE OF STORMS IN BIBLICAL HISTORY AND THE END TIME:
1. FIRST DAY, MEDITATE ON "HERBIVORES WAS THE ORIGINAL CREATION OF MAN AND WOMAN COVENANT." That was altered in the Noah Covenant after the flood. It is probable that the text was altered! This is because Noah and wife and children on the ark "stored food for themselves and the animals" in a Covenant still with God that to that date said "herbivores" "eat green plants" "fruits and vegetables" "seed bearing plants, not animals." And after the Ark landed when the flood waters receded, there would not be allowed the eating of animals yet, because of scarcity, there was only the animals that were on the ark, none others to eat, and those could not be eaten. It is probable that God renewed the exact Covenant (Contract) that was made with Adam and Eve that man's diet was to be "fruits and vegetation, seed bearing plants only." IN ANY EVENT, THE COVENANT WITH ADAM AND EVE AND RENEWED WITH NOAH AND HIS WIFE AND CHILDREN FORBID ABORTION! AND IT FORBID DEVIL PORN (sons of gods touching women and men, as in "touched by an angel, bewitched, I dream of jeanie, etc) WHICH IS THE REASON GOD DESTROYED THE LAND OF "ANGEL PORN ROOMS CALLED NEPHELIUM." The Ne-filium are those hitler youth that were in rooms were apparitional devils touched them, and that same curse was the reason God destroyed Egypt later, and Sodom and Gommorah shows it was the "gang bang rapist homosexual mafia running the cops and courts and towns that caused the End. HOLY SPIRIT WE NEED YOU TO DO AS YOU DID FOR ENOCH AND NOAH. COVERT THE EARTH. Come Holy Advocate of Truth and convert the youth.
Here is the same Covenant (Contract Of Body) that is renewed with Noah after the Great Flood:
Enoch and Noah both fought against the homosexual devil pornist mafia. Enoch called down whirlwinds in the Name Of God, and Walked with God. The texts about Enoch were probably altered as done to the life of Elijah, wherein they both in prayer called down wrath of God in Solar Whirlwinds of Fire that caused "Droughts, Floods, Famines, Earthquakes, and Tornadoes or Hurricanes (whirlwinds), ad the texts were mirror opposited to have them both "riding up in whirlwind of fire." Holy Spirit ADVOCATE OF TRUTH please convert the youth.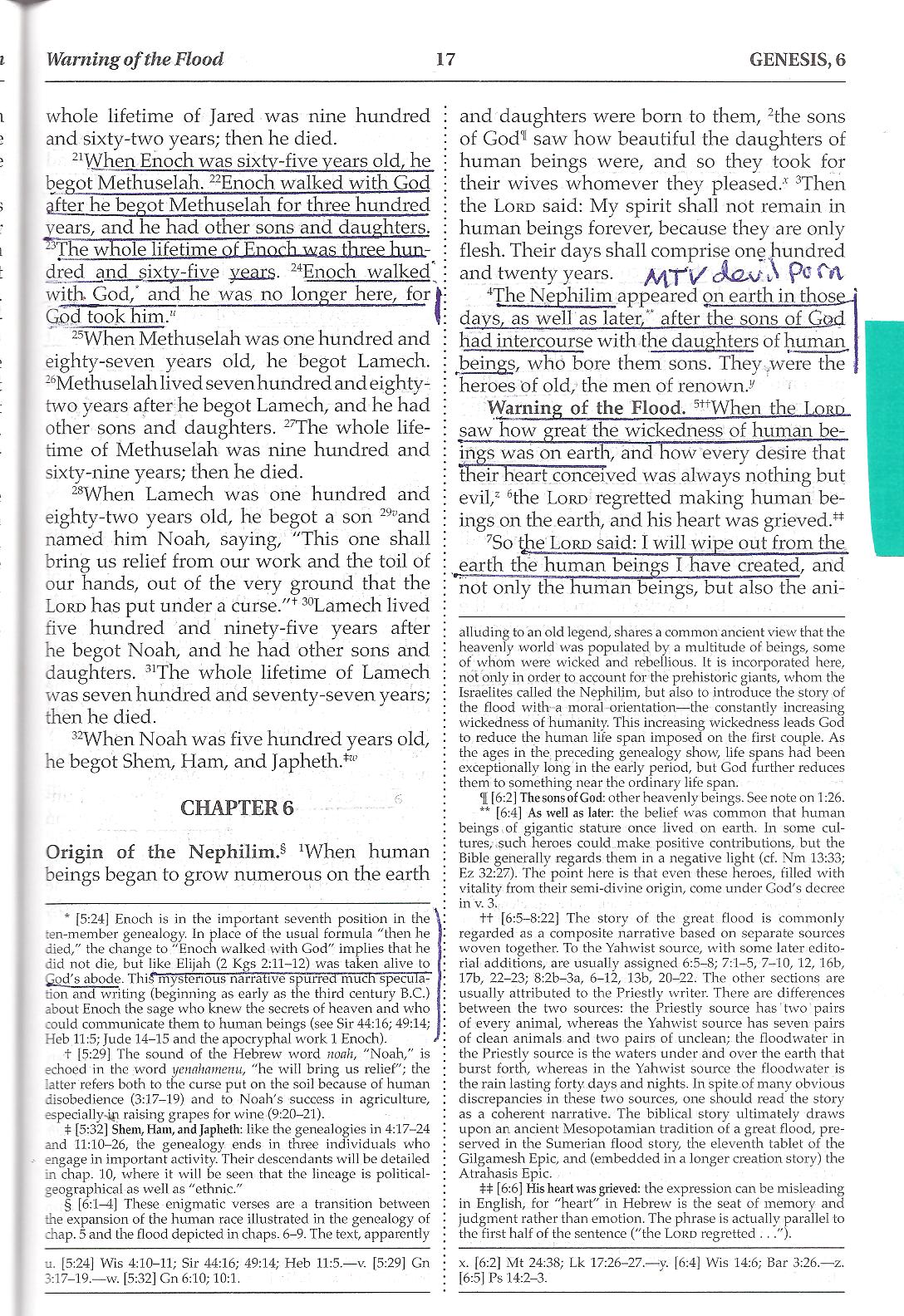 Noah continued that tradition of warning the Earth to repent and calling down Solar Miracle that brought about great rapid evaporation of the sea, that moisture in the atmosphere then came back down as the Great Flood. Whenever water evaporates from the Ocean from Solar Flares, there will be that water falling back to earth in FLOODS. Drought in one place, causes Floods in another place.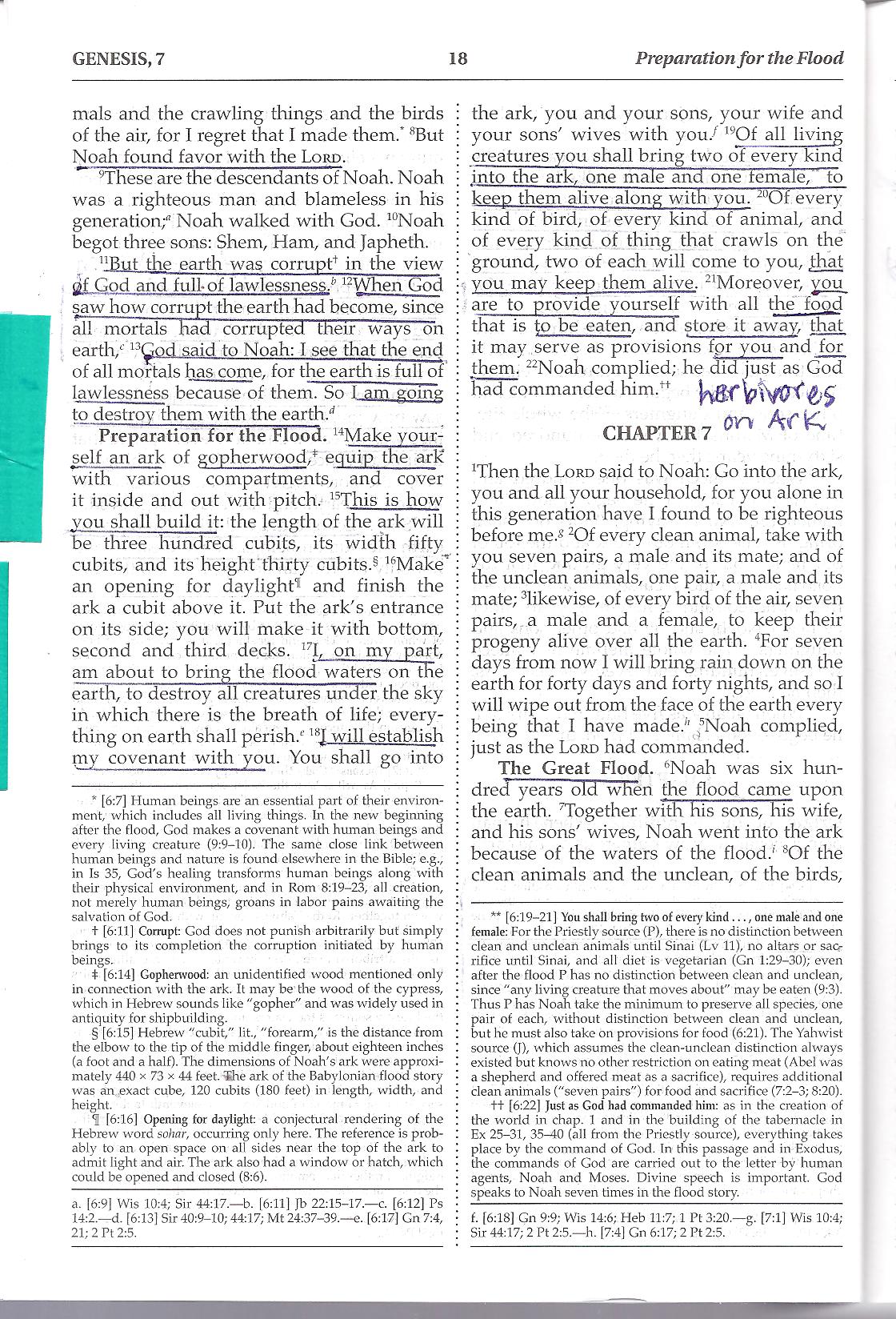 Man's diet is primarily Herbivore and should be entirely Herbivore (plants, fruits and vegetables) exclusive. The emphasis is important because in Eden they ate only fruit and seed bearing plants. In the End, when Real Earth is created (The New Heaven and New Earth) there will exist only the original Eden Covenant of "herbivores", only plants, fruits and vegetables will be allowed.
There a a meanness, a callousness to life that comes from tearing apart and eating other living creatures. We see it in the meat industry today, and worse is the photos of persons now finding human flesh and baby brains sold in markets run by PLANNED PARENTHOOD ASIAN BLACK MAFIA, see brianfusonie.com Home Page for photo of an entire baby being eaten by an Asian.
If man and woman and our children were to return to the Original Intent Covenant With God made with Adam and Eve, and eat therefore only fruits and vegetables, there would not be persons trying to market human babies to eat!
COME HOME HOLY ADVOCATE OF TRUTH, PREPARE AND CONVERT THE YOUTH IN TIME BEFORE THE RUIN COMES TO THIS LAND.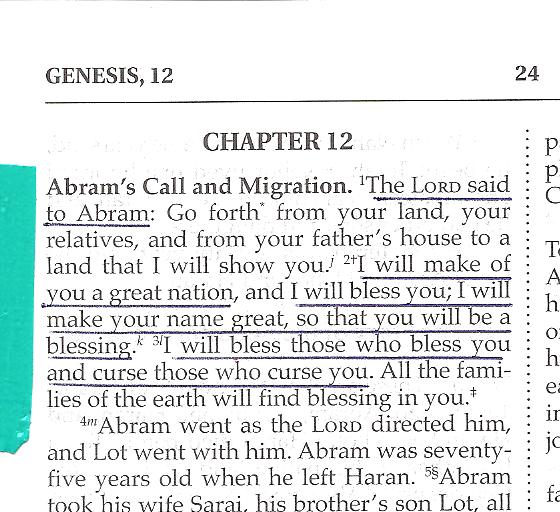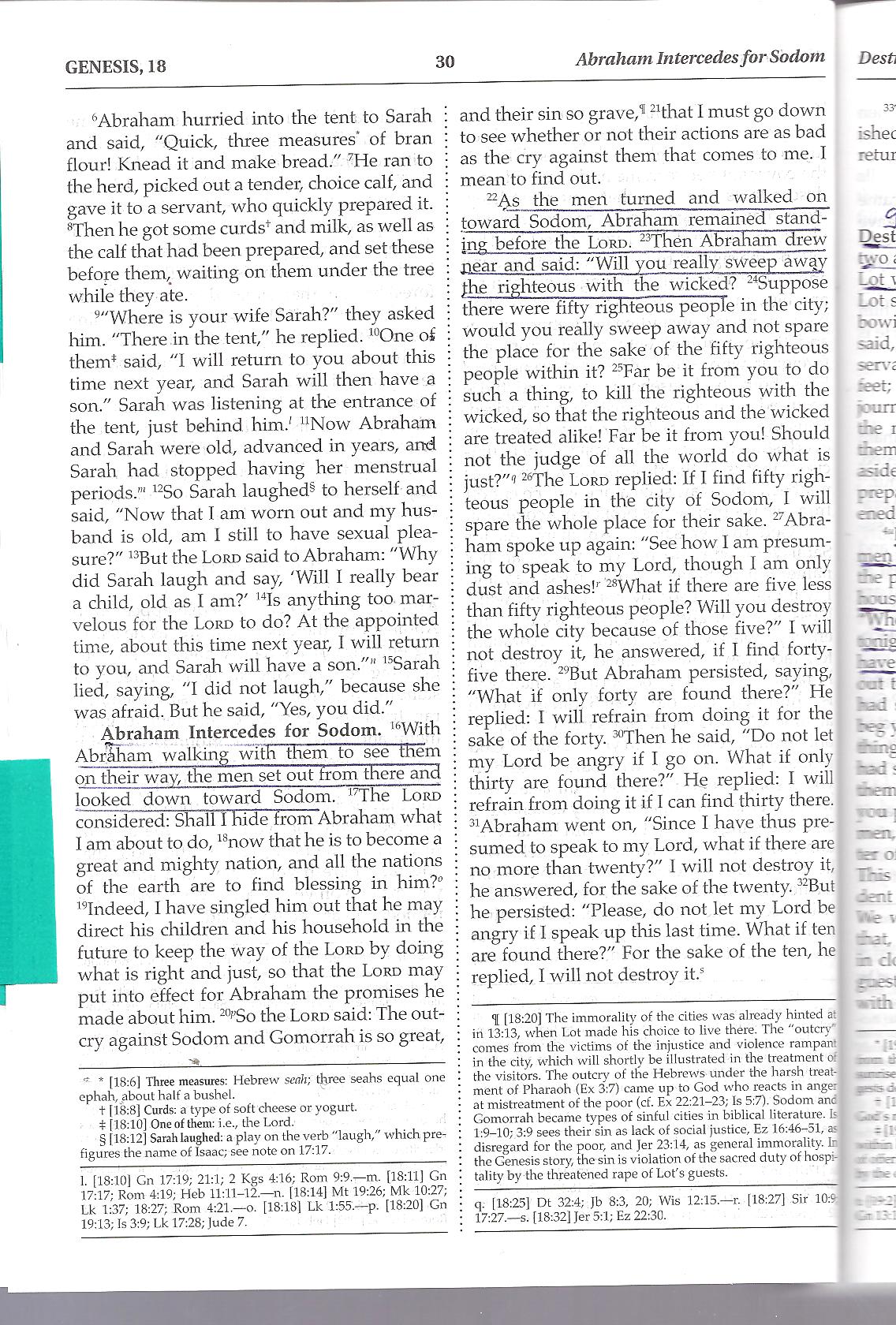 Abraham warred against the HOMOSEXUAL GANG BANG COP REGIME OF SODOM (same as New York and New Orleans). Abraham's friend Lot had God messenger's come to his house, and the Sodomite gang bang rapist homosexuals running that city went to rape them! They did not succeed! Instead, God SENT FIRE SMELLING OF SULFUR FROM THE SKY that DESTROYED SODOM AND GOMMORRAH, WIDE PATH OF DESTRUCTION, AT LEAST THOSE CITIES DESTROYED BY THE FIRE FROM THE SKY. TORNADOES COULD DO IT. AND SOLAR (SUN) IS MENTIONED IN THAT TEXT, AND SOLAR FLARES ALWAYS CAUSE TURNING WINDS (WHIRLWINDS) ON EARTH. HURRICANES KATRINA, RITA, WILMA WERE CAUSED BY 13 X CLASS SOLAR FLARES THAT YEAR OF 2005.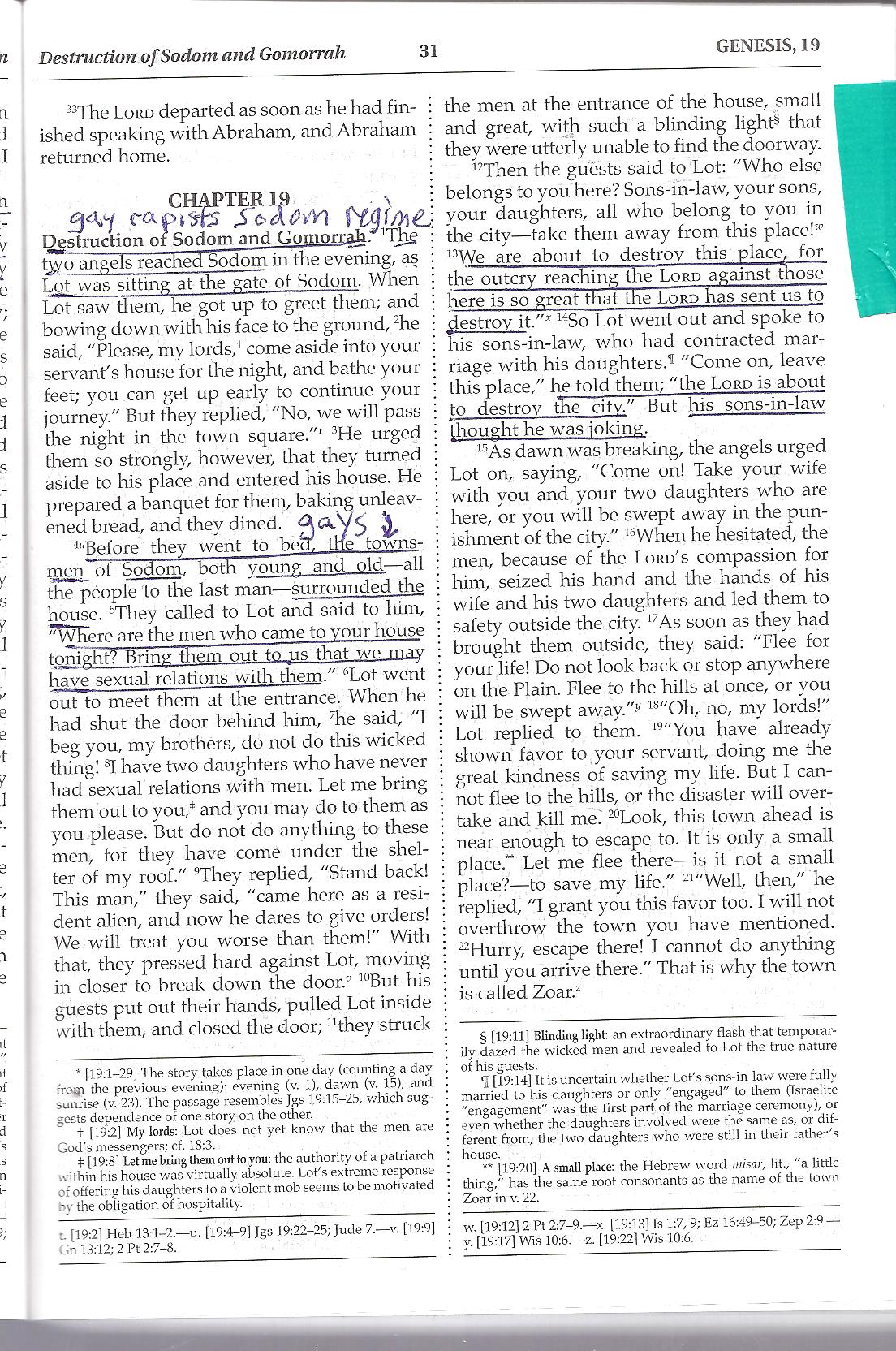 To destroy the Homosexual cities of Sodom and Gommorah, seen in the text above, God SENT RADIATION SULFUR SOLAR DUST FIRE FROM THE SKY. At least we know it had an smell of sulfur, and it came from the sky. That is what the text says. It worth finding out what levels or types of fire from heaven would have the smell of sulfur. Smog in cities smells sulfur. Whatever it was they compared to the scent of burning sulfur. Natural gas does not have that odor. We add sulfur to natural gas that it can be scent detected by human nose. And it came down from the sky. A heatwave can smell of bogish type sulfur smell, rotting, decaying things in heatwave stricken area. It is possible the events took days to unfold, and were reported caused by the Fire from the sky. Solar flares did it. Also during Solar Flares there have been often reported countless thousands of ocean, pond, lake, river fish suddenly all dying and decaying floating on the water bellyup! Radiation dust also has an odor, and may smell at times as something they might compare to sulfur burning. Solar radiation.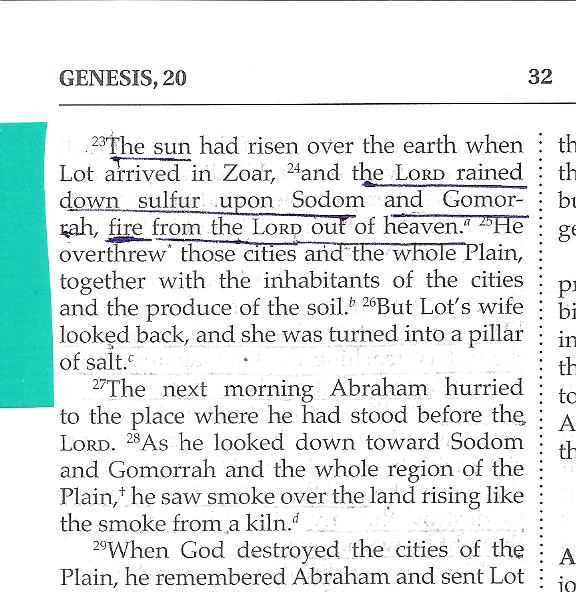 We know the text was altered or shortened, transliterated unlawful, because it has fundamentalist reading of "They remained pillars of salt in the community" altered to "She turned into a pillar of salt." They probably unlawfully shortened and altered or transliterated in translating the Solar Miracle also. We also know the texts were unlawfully altered by gay mafia because they have Abraham selling his wife Sarah to Pharoah to be Pharoah's sex slave, instead of Abraham being killed. That most likely did not happen. Abraham is God's EXAMPLE SAINT. He would not have allowed the adultery. Read Genesis. COME HOLY ADVOCATE OF TRUTH AND CONVERT THE YOUTH.
In the Bible we see Moses also sent against the Egyptian mafia of Lodge, often called Nephelium, Aniken, those who worshipped "strange gods, and touched by angels, mating angels, feigned incarnations," which are tactics often still used by the same homosexual mafia running the gay police and Hollywood, and MTV today, as they did in Sodom, and in Egypt. MOSES CALLED ON SOLAR MIRACLES also at God's command to enforce TEN COMMANDS, and LIBERATE THE HEBREWS. He yelled: "SET MY PEOPLE FREE, OR THE END OF YOUR LAND COMES SOONER." The plagues he called on at God's command were Ten in number, to enforce Ten Commands of Law. I will focus here on several of those plagues: "Red Sea Flood," "Hail," "Column of smoke," and then the "Boils (hemorrhages, one Bible text reports them as cancerous hemorrhoids included)" which can be the result of HIGH RADIATION POISONING, ESPECIALLY RADIATION FROM SOLAR FLARES, which is often seen also in High Altitude Skiing, Flying, or Beach exposure too long to the daily sun levels, and many times worse when Solar Flares. When there are significant solar flares, there is always an outbreak of "flu type symptoms." They tell persons having CAT Scans, MRI, that they may experience "flu type symptoms" from the radiation. The immune system is also weakened over time by exposure to radiation from the Sun, and skin cancer, legions, called boils would become common. AND THE PLAGUE OF HAIL STORMS, we still today see increased Hail Storms Frequency and Size of hail stones falling from the sky from Solar Flares. Heat convections, moisture in the atmosphere colliding with cold fronts bring about large hail sizes. Tornadoes often cause hail storms, and large hail. Tornadoes are caused often by Solar Flares.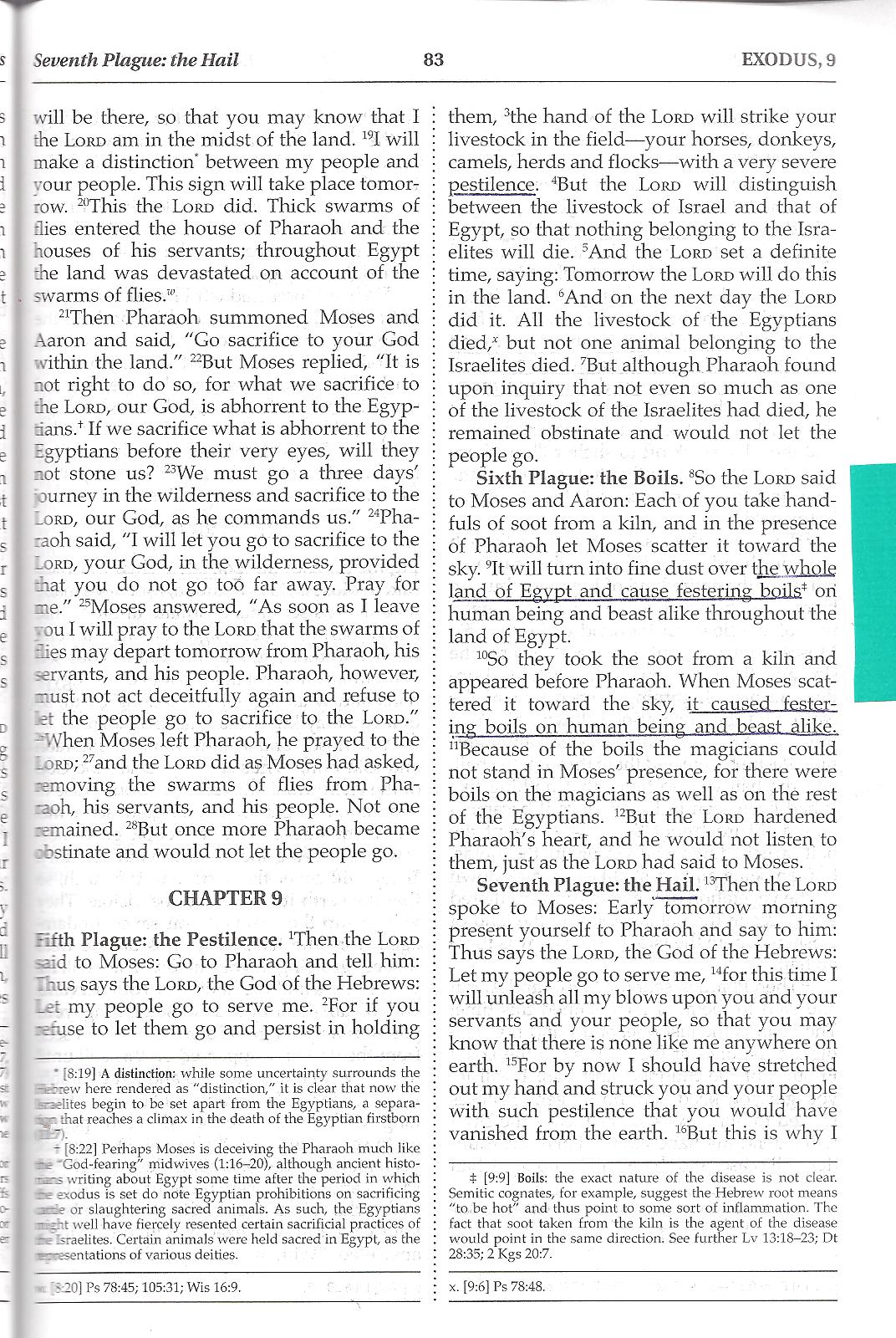 In the Book Of Revelations we are foretold of 3 days of darkness, similar to that which took place in Egypt long ago, that will be drawn near the End Time. That is another type of Solar Miracle, one in which God will block out the sunlight for 3 days and send another "angel of death" type event that destroyed the firstborn in Egypt.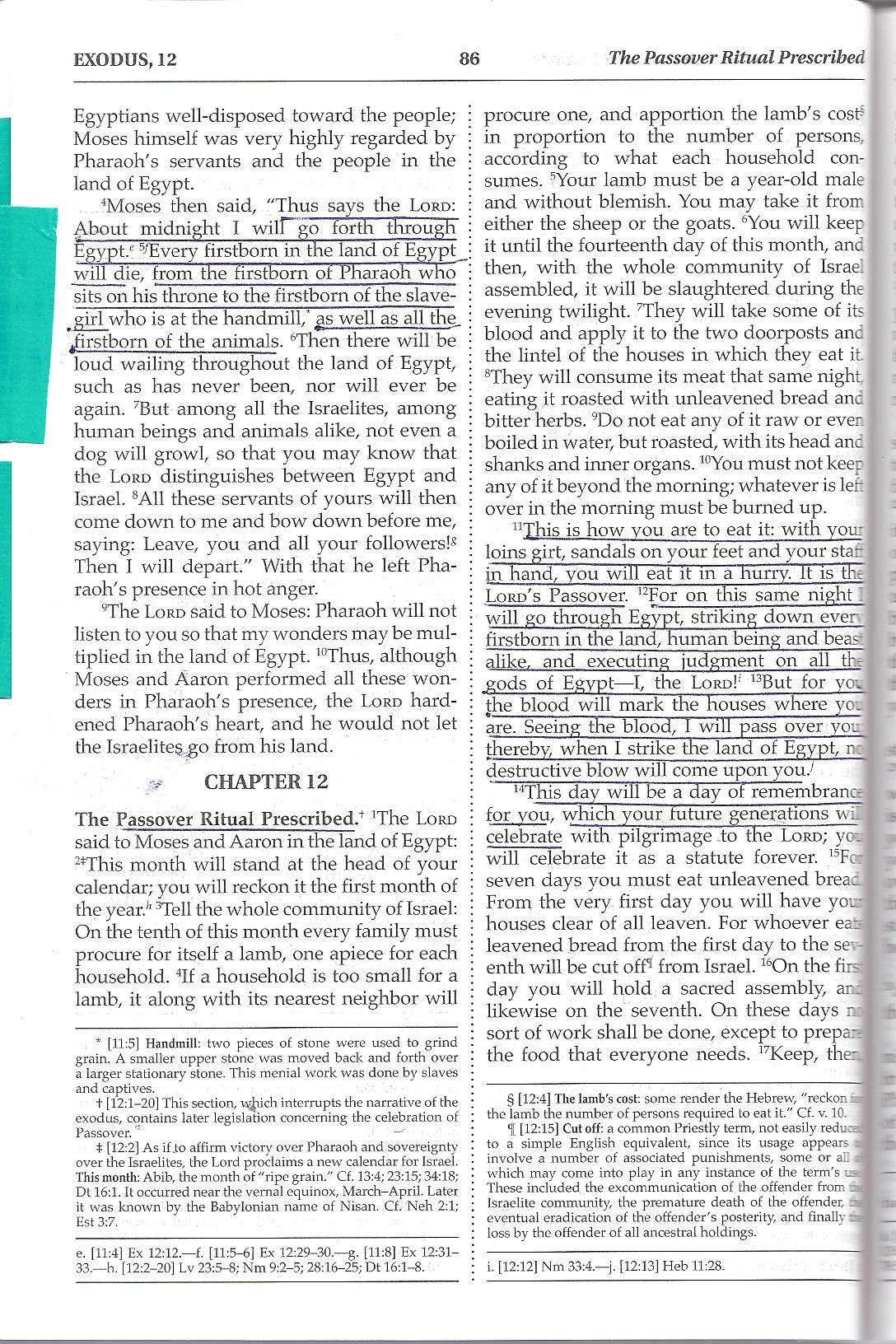 HOLY SPIRIT ADVOCATE OF TRUTH PLEASE COME TO CONVERT THE YOUTH.
The Moses text about the Red Sea was also altered, transliterated, abbreviated, to what we read today. The original text about Moses probably confirmed what scientists have uncovered that "THERE WAS BIBLICAL EPIC FLOOD AT THE SAME YEARS MOSES WALKED THE EARTH, and it caused all throughout Mesopotamia including Egyptian sea (Red Sea) and the Nile (rivers) FLOOD THAT WOULD HAVE CUT OFF PART OF THE LANDSCAPE, MUCH AS HURRICANE KATRINA FLOODED PORTIONS OF NEW ORLEANS, BLOCKING ACCESS TO OTHER PORTIONS OF THAT CITY. The Red See overflowed its banks in Epic Flood that cut off the Egyptian soldiers who chased the days earlier released Hebrews with Moses! When there is Biblical proportion water floods or droughts, it is PROBABLY SOLAR FLARES CAUSED THE HEAT THAT DID IT! Moses anointed Joshua later, and Joshua called on SOLAR MIRACLE and GOD DID AS JOSHUA ASKED!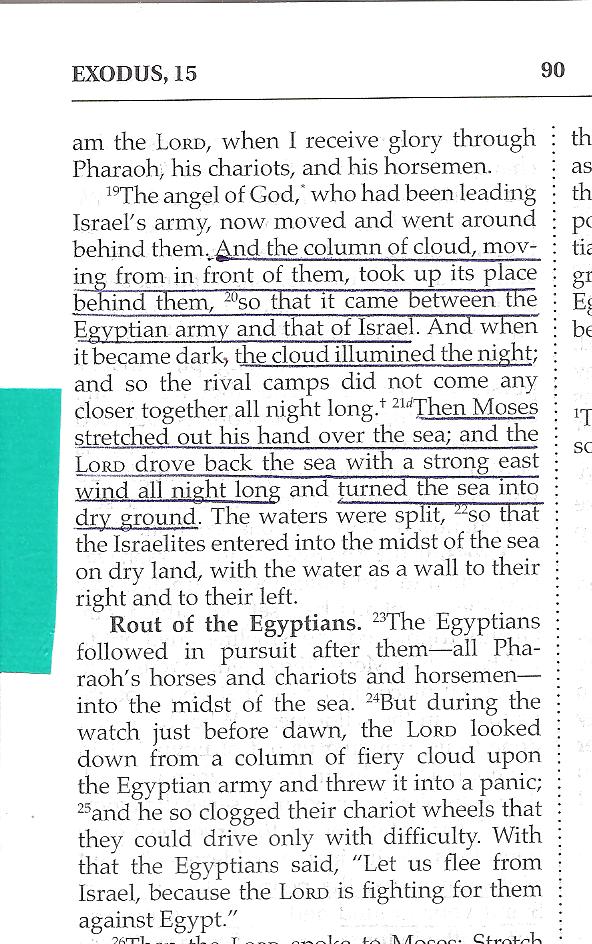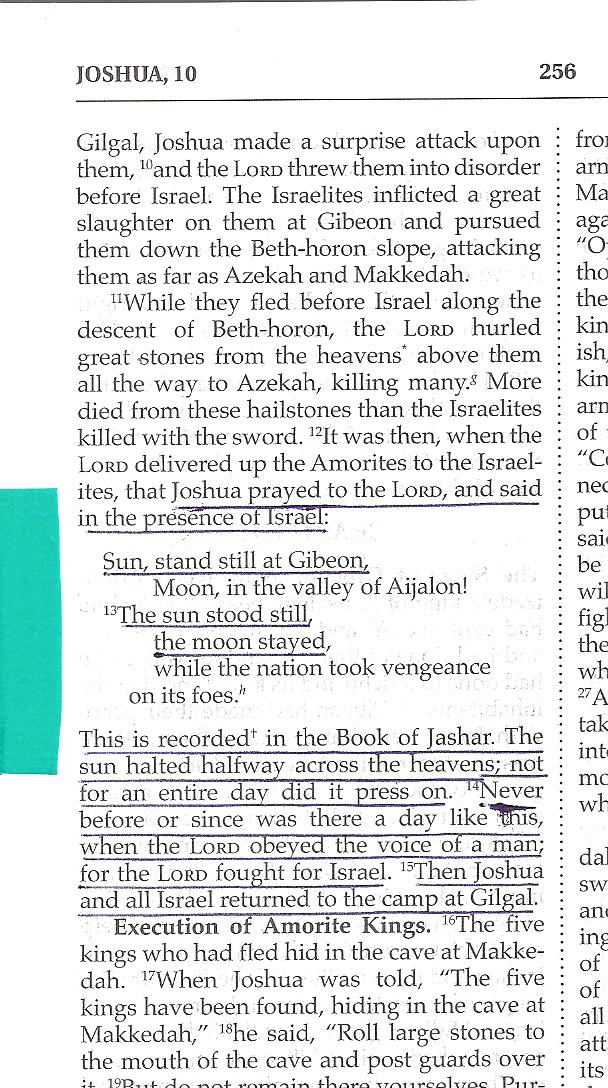 COME HOLY ADVOCATE OF TRUTH, YOU SENT TEN PLAGUES TO ENFORCE THESE TEN COMMANDMENTS. DO IT ANEW!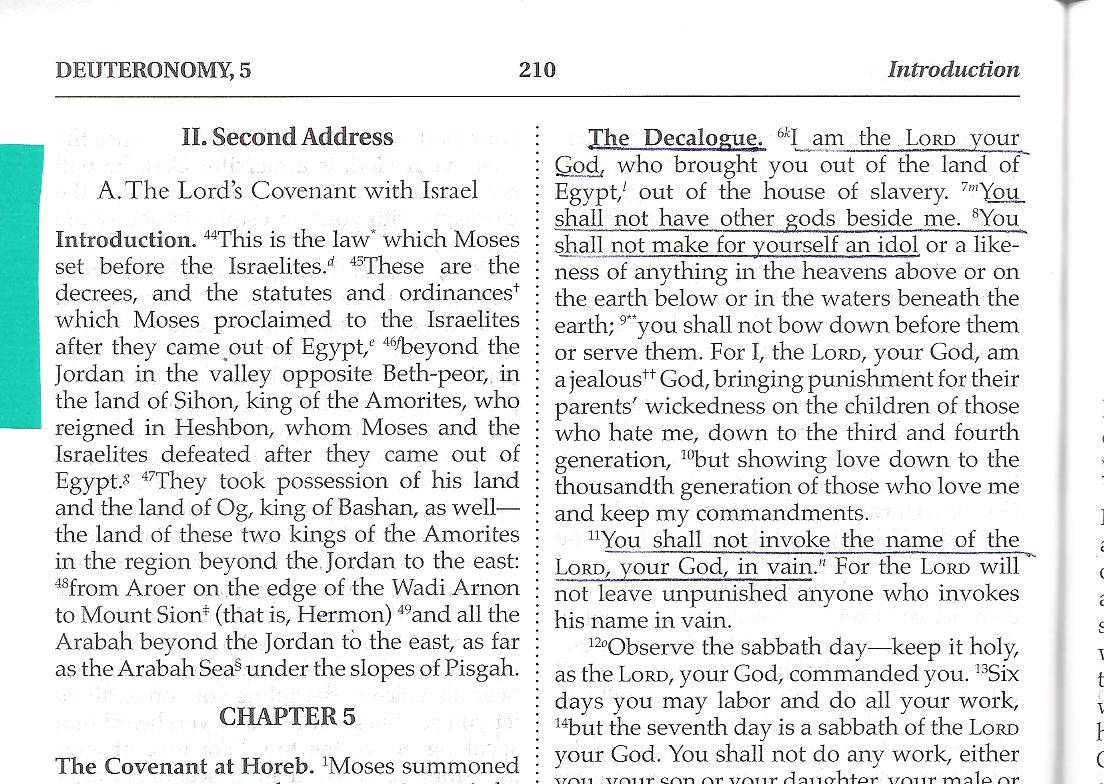 An "IDOL" is any image pretense of "God" that does not conform to the SAME GOD ENOCH, NOAH, ABRAHAM, MOSES, AND ELIJAH WORSHIPPED.
Elijah also was sent against the homosexual priests of same Egypt type "baalites," those who worshipped strange god Baal, nudists, orgyists, mass murderer abortionists. The baal-its were same Nephelium Aniken (angl-kin, angel kin, nazis) who stole the clergy role in lands and perverted the youth. Elijah ended them.
Elijah caused Droughts, Famines, and then End of Drought with rain. Elijah called on "whirlwind" "fire" and caused "earthquakes." Those texts were altered.
HOLY SPIRIT ADVOCATE OF TRUTH IT IS TIME TO RESTORE THE ORIGINAL TEXTS ONCE MORE. OR SEND THE EARTHQUAKES TO EACH COASTAL REGION.
A BIBLE COMMISSION IS NEEDED.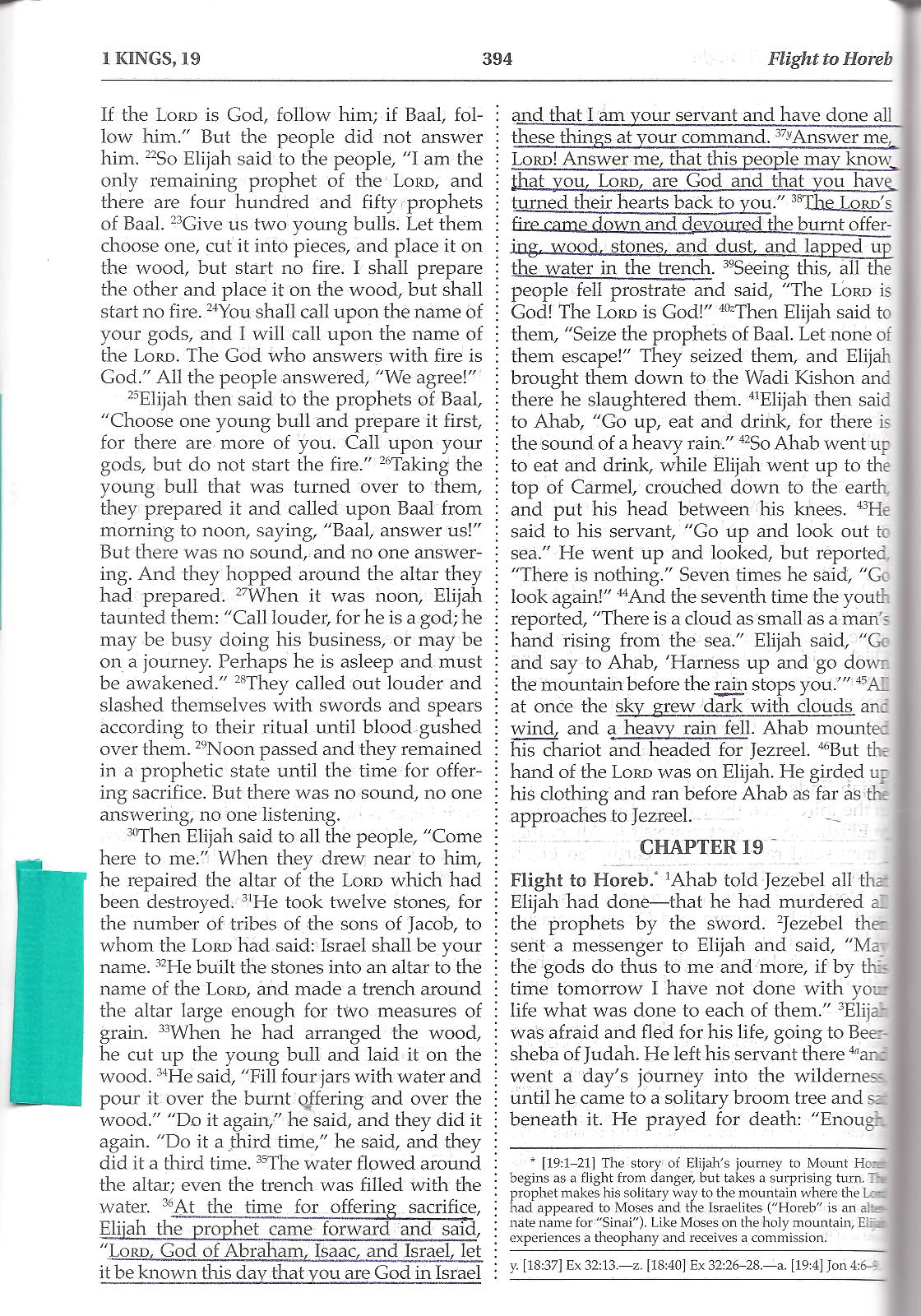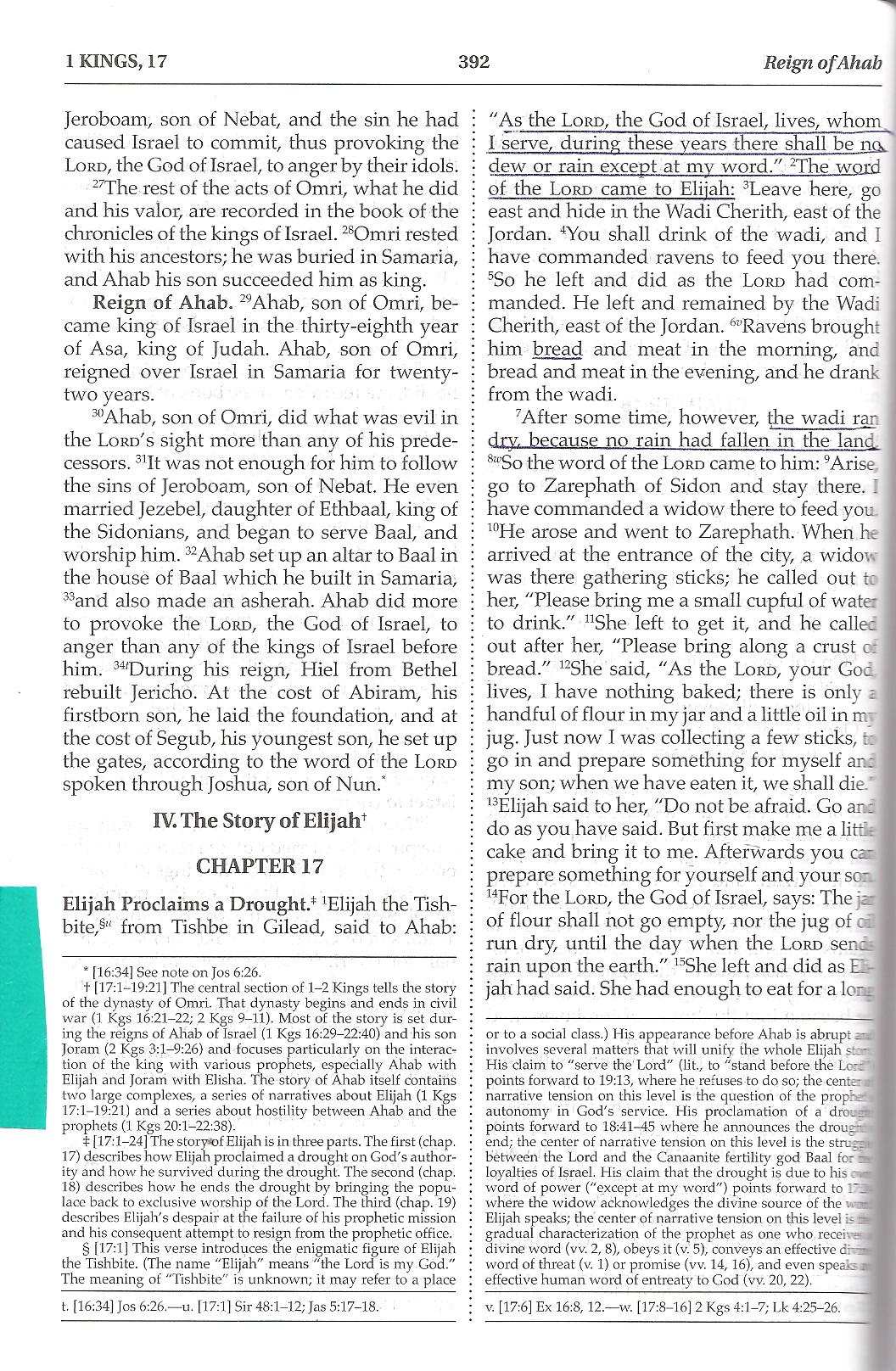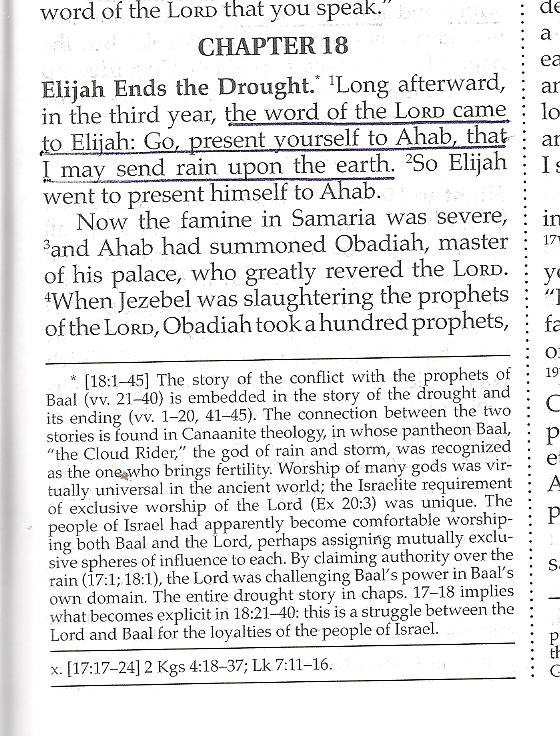 HOLY SPIRIT ADVOCATE OF TRUTH, YOU FORETOLD IN BOOK OF THE END, OFTEN CALLED REVELATIONS, THERE WOULD BE "EARTHQUAKES" "HAIL STORMS", INCLUDING "LARGEST EARTHQUAKE THAT WOULD RUIN MANY LANDS OF CITIES."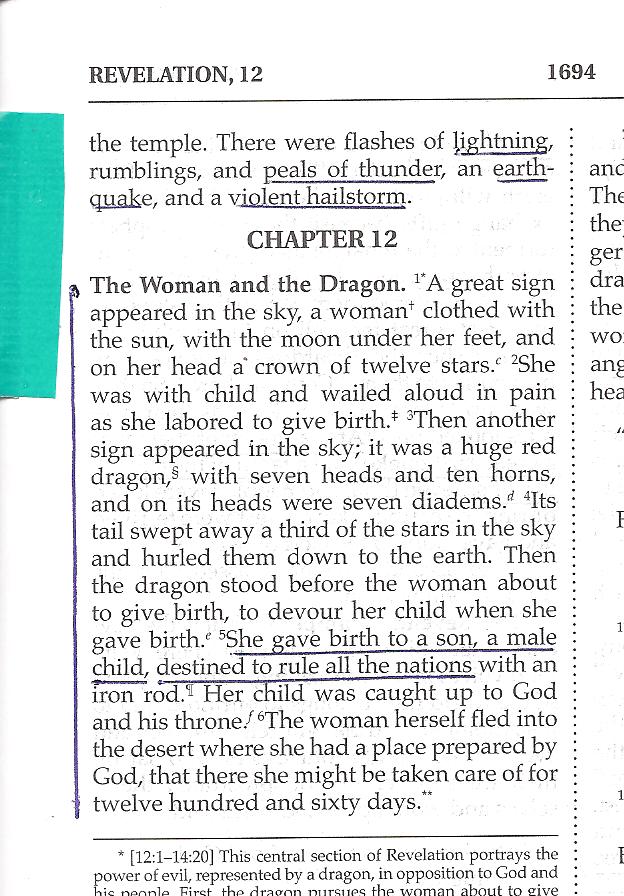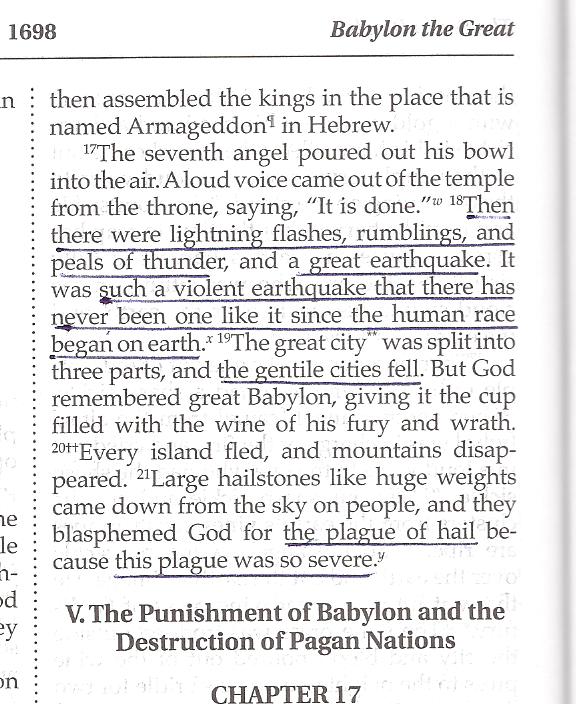 IT SAYS THERE WILL BE THE LARGEST EARTHQUAKES SINCE MAN WAS ON EARTH. There was man on earth when GIANT EARTHQUAKES TORE APART PANGEA, making NORTH AND SOUTH AMERICA CUT OFF FROM AFRICA. That earthquake is still recorded in aboriginal type tribes. They remembered it in their histories. Man was on earth then during LARGE ENOUGH EARTHQUAKE TO TARE APART THE EAST COAT AND DESTROY THE WEST COAST, AND DESTROY MANY NATIONS. God foretells there will be EARTHQUAKES bringing ruin because of Homosexual mafia, read the Book Of Revelations. And the EARTHQUAKE WILL BE LARGER THAN MAN HAS SEEN.
AND IT SAYS WE CAN EXPECT LARGE HAIL STORMS BEFORE THE REAL END COMES.
This concludes DAY ONE OF OUR NOVENA TO THE HOLY SPIRIT ADVOCATE OF STORMS WHO TAUGHT ENOCH, NOAH, ABRAHAM, MOSES, ELIJAH, AND JESUS.
"LET'S BE LIKE ENOCH."
I WILL POST MORE TRADITION DAYS OF THE NOVENA, WHICH FOCUS ON SCRIPTURE TEXTS ABOUT THE HOLY SPIRIT. IT WILL HAVE THE LAYING OF HANDS OF MOSES ON JOSHUA TO "CONFER THAT AGENCY CONTRACT WITH THE HOLY SPIRIT," AND THAT "THE SAME HOLY SPIRIT WHO ANIMATED MOSES ALSO FILLED AND TAUGHT THE ELDERS IN THE MOSAIC COMMUNITY OF TEN COMMANDS." AND IT WILL FOCUS ON PENTECOST! HEALINGS, POWER, MIGHT, AND MERCY. IT WILL READ MORE AS BIBLICAL BASED NOVENA ON THE HOLY SPIRIT RELATIONSHIP OFFERED EACH PERSON.
http://brianfusonie.com/VEGETARIAN ETHIC IN MEDICINE.pdf

by Brian Fusonie, Esq. (c) 2014

"God blessed them and God said to them: be fertile and multiply fill the earth and subdue it. ... God also said: I give you every seed bearing plant on earth and every tree that has seed bearing fruit to be your food. ... I give all the green plants for food." Genesis 1:28-31
NATURE OF THE HOLY SPIRIT

Because God the Father animates (draws, writes) all motions and thoughts of all creatures, all the good (love) and all the bad (evil), it is not possible that there be "Holy Trinity" "undivided unity." Because God draws all creation, both the good and the evil, the Trinity cannot be "undivided," because that would make Jesus and the Holy Spirit partnership with God's drawing of both good and evil, which would make them part evil, and that cannot exist. They must be good. If God draws any evil, Jesus cannot be part of it. Nor could the Holy Spirit. They must be drawn (written, animated) AGENCY OF GOOD LAW, not evil. To be "person" they can only be drawn Good.

God was alone and wanted a Son. God created that Son we call the Word, Jesus. God wanted other, God created the Holy Spirit. They cannot exist as evil, they are drawn (written, created, animated) as God's Family, the Father, Son, and Holy Spirit, who are sent (drawn) in agency of The Good of the Father, not the evil.

God draws (animates) all movements and thoughts of both the Son, and the Holy Spirit. They are animated as separate "Persons".

The term "person" exists only as separate "being." One being cannot be two persons. Three persons cannot be one being. Math precludes it. The Catholic Church teaches "Glory to the Father. As it was in the beginning," God the Father was alone. Therefore there was Being who lived alone as single Person we know as the Father.

Spirit is not the animating principle of life. God the Father draws (writes, animates) each life of each creature. God does it. God drew Jesus raised from the dead. The Spirit did not indwell Jesus to life anew, rather God the Father drew (wrote, animated) Jesus to life anew called RESURRECTION. The Holy Spirit did not raise Jesus. God the Father raised Jesus. The Holy Spirit does not give life, God the Father draws each life of every creature. The Holy Spirit is sent as Family of God the Father in agency of God the Father and Jesus NAME to carry out THE GOOD WORK that God the Father wants done. In Jn 14 Jesus tells that "If you love me, you will keep my commandments. And I will ask the Father, and he will give you another ADVOCATE to be with you always, the Spirit of truth ... The Advocate, the holy Spirit who the Father will send in my name (agency law) - he will teach you everything and remind you of all that I told you."
This same type of Agency Law is mentioned by Jesus in Jn 17 wherein he tells he carried out "in the Name of the Father" the "work the Father gave him (Jesus) to do." He did as the Father commanded and wrote. He was drawn good.

In page 740 of the Christian Prayer (Liturgy Of The Hours) we read a false creation myth in Judith 16 that "you sent forth your spirit, and they were created." The truth is God the Father drew them created, not sent forth His spirit to create them. God has equilibrium density without motion capable of being "sent forth" as if "flowing spirit." RATHER THE SON AND THE HOLY SPIRIT ARE "SENT FORTH IN THE NAME OF THE FATHER" (drawn forth in AGENCY LAW) to carry out the GOOD THE FATHER ORDAINS FOR EACH PERSON. THEY GO IN THE NAME (AGENCY) OF THE FATHER TO PROTECT US AND SAVE US, TO TEACH US AND TO LOVE US. That is Baptism. That is Confirmation. That is Pentecost! The Son and Holy Spirit are our Best Friends and Family.

The Trinity can only be understood in that Love of Agency Law: The Son and Holy Spirit are undivided in the Good of the Father as the Father's Family who the Father created. They had a beginning. They were written.
TEN COMMANDMENTS: THE FIRST COMMAND TO "MAKE NO IDOL" SUMMARY
Because GOD DRAWS (ANIMATES, CREATES) all movements and thoughts of all creature, we must conclude:
1. There is not "One in Being with the DRAWER (ANIMATOR FATHER, CREATOR)". God CANNOT DRAW GodSELF.
2. There is not "consubstantial with the DRAWER".
3. There is not "hypostatic union with the DRAWER."
4. There is not "coextensive with the DRAWER."
5. There is not "from the beginning with the DRAWER." God was alone in the beginning, and had to draw (create) His Son later.
6. There is not "Light from Light with the DRAWER."
7. There is not "true God from true God with the DRAWER."
8. There is not "begotten not made with the DRAWER." God was alone and had to draw (create) His Son.
9. There is not "through the Son all was made with the DRAWER."
10. There is not "unitives with the DRAWER."
THERE IS ONLY IN THE BEGINNING GOD THE DRAWER (ANIMATOR, FATHER, CREATOR) WAS ALONE AND WANTED TO CREATE A SON, THE WORD (DROW, JESUS), TO WHOM HE GAVE ALL, JN 17, AND WANTS WORSHIPPED AND OBEYED AS HIS ONLY SON AND LEGAL AGENT. JN 17, JN 14.
"HOLY TRINITY" SUMMARY
"Holy Triune God" DOES NOT EXIST WITH THE DRAWER.
GOD CANNOT DRAW GODSELF (GODBEING).
"One in Being with the DRAWER (FATHER, GODBEING)" DOES NOT EXIST.
"3 persons, One same Being" DOES NOT EXIST. "3 beings one same Being" DOES NOT EXIST.
"person" = "being" = "animated (drawn) free will" = "Son"
To be a "living person" you must at minimum be a "living being," separate from all other beings.
WHAT DOES EXIST:
Jesus taught a Trinity based on Family and Agency Law with the DRAWER.
1. The Father (DRAWER, CREATOR)
2. The Son (DRAWING, CREATURE, CREATED) sent in the agency NAME OF THE FATHER. Jn 17.
3. The Holy Spirit (DRAWING, CREATURE, CREATED) sent in the agency NAME OF THE SON. Jn 14
God was alone in the beginning and wanted to create FAMILY OF GOD, a living person SON, THE WORD, who later became INCARNATE JESUS.
God exalted the Son "giving all things" to the Son, and AUTHORITY OF AGENCY LAW and KINGSHIP. LORD HIGHER THAN ALL SPIRITS. Jn 17
The Son has "authority to give eternal life to those the Father has given Him." Jn 17
The Son is to be worshipped and glorified as the only SON OF GOD.
The Son has given us to the ADVOCATE, THE HOLY SPIRIT (DRAWING), who acts in the NAME OF THE SON (DRAWING), SENT BY THE FATHER (DRAWER), to "teach us and remind us of all that Jesus told the apostles." Jn 14
The Holy Spirit is DRAWN, not the DRAWER (FATHERBEING). The CREATOR BLESSED IS ONLY THE FATHER. The Holy Spirit asks and the Father then draws.
The Holy Spirit is our Legal Guardian to whom God the Father and His only Son, Jesus, entrusted us. Jn 14, Ps 121
HOLY SPIRIT HAS HIS OWN "SOLE" (SOUL, PERSON, BEING)
"One Same Spirit" DOES NOT EXIST WITH THE DRAWER.
GODSOLE (GOD SOUL, DRAWER, FATHER) CANNOT DRAW GODSOLE (GOD BEING, GODSOUL, GODSPIRIT, GODSELF).
GOD SOLE CANNOT DRAW GOD SOLE.
LONE GOD CANNOT DRAW LONE GOD.
GODPERSON CANNOT DRAW GODPERSON.
Definition of "SOLE" ("SOUL") is your "SOLE PROPRIETARY COPYRIGHT EXISTENCE," your only true "self," your "person" "being."
The HOLY SPIRIT has HIS OWN SOLE (SOUL, PERSON, BEING).
JESUS, the WORD has HIS OWN SOLE (SOUL, PERSON, BEING).
Each person has their own sole (soul, person, being).
Mary has her own sole (soul, person, being).
For a person to exist, they must be sole (soul, person, being).
THERE IS NO UNITIVES WITH THE DRAWER. THERE IS NO SHARING OF THE DRAWER'S ANGEL SOLE (SOUL, PERSON, BEING).
THE DRAWER HAS TO CREATE (DRAW) THE HOLY SPIRIT, AND EACH OF US, IN ORDER FOR US TO EXIST AS PERSONS.
Again, there is no "One same spirit."
"Glory be to the FATHER (DRAWER, CREATOR) as it was in the beginning,
and to the SON (DRAWING, CREATED, CREATURE)
and to the HOLY SPIRIT (DRAWING, CREATED, CREATURE)
as it is now and will be." Amen